1st Wedding Anniversary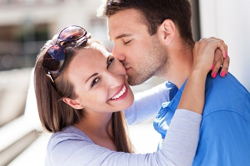 The first anniversary a couple shares together is called the "Paper Anniversary." Some thoughts on the reason behind this suggest that it is most difficult for couples to survive the first year of making ends meet and living with one another's quirks. As a result, making it through that time is celebration enough, and no gift beyond a card is needed.
Many countries view the 1st anniversary as being equally as important as the fiftieth. Common gifts for a couple's first wedding anniversary include clocks, coasters, tickets to a show or cruise, and even more. The gifts are designed to be something the couple can do together to spend time with one another away from the hustle and bustle of day to day life, to celebrate the first full year of their new lives together. As a result, the gift should reflect the love and care the couple shares for each other.
1st wedding anniversary wishes
It seems like only yesterday that the two of you were celebrating your wedding with family and friends. You are now celebrating your 1st anniversary with more love for each other than the day you met. Congratulations and blessings for many more!

Happy Anniversary my love
We made it to one year
You're the love of my life
And I love you so much, my dear
As we move on from here
I want to make it clear
I'll be by your side
Each and every year

My, how time has swiftly flown!
Yet, it still feels like I'm on my Honeymoon!
Who would believe that it was just last year
I married my soul-mate, my sweet Teddy Bear!
I cannot wait to see what next year will bring,
But until then, I proudly wear my ring.

One year down, and forever to go
May your love be strong, and continue to grow
Some years are easy, some will be tough
But you have each other, and that is enough
Happy Anniversary
Congratulations on getting through year number one!

1st wedding anniversary poems
Our first anniversary is here already
As our love grows stronger and ever more steady.
Thank you for walking with me each step of the way
With many more to come - I'm here to stay.
I hope you've enjoyed it as much as I,
Knowing we'll never want to say goodbye.

Our first year of love was set in paper and ink
May our future be even brighter as champagne glasses clink.
Love lights the way to turn paper to stone
And ensure that neither of us grow old alone.