Wedding anniversary wishes for friends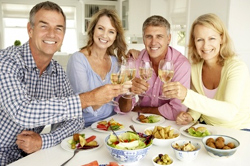 It's important to write in a tone that is reflective of the friendship. If the friendship is one that is full of jokes and laughter, incorporate those elements into the wishes. Share joyful memories experienced in the past and how knowing this particular couple adds so much happiness to life.
If the couple has experienced tough times and been there through the thick and thin, express gratitude for the role they've played in a life that couldn't have made it without them.
Share sentiments of inspiration as well as advice on how to continue walking as one united couple. Remind them of the support they have in your friendship and commit to being as good a friend to them as they've been to you.
Anniversary messages between friends
Dear friends, Happy anniversary!
We have enjoyed watching your relationship grow and prosper. We gain encouragement and light from watching your interactions. May you always enjoy great happiness and love!

Couples like you make people like me believe in finding the love that lasts forever. Thank you for the example you set and the hope that your love brings to all who meet you. On your anniversary, I am thinking of you and wishing you many more wonderful years.

Hope these years have been everything you expected them to be, and more! May you always feel the love and happiness that you feel now.
You are proof that two people really can become one
Happy anniversary and congratulations to you both!

Dear friends, We love to see the two of you laughing and bringing out the best in each other. True partnerships are a gift. May you always treasure yours. We are so thankful to have you as friends. Many blessings on your future years of married adventures together!

Through good times and bad the two of you stand by each other radiating love and honor. Your friendship is a blessing and your marriage is a beauty to behold. Happy anniversary to my dear friends.

There's no one more perfect
For you to be with
You've showed us that love
Is not just a myth
You've weathered the storms,
And made it out stronger
May you always be together,
Forever and longer
Happy anniversary to the best couple in the world!