Wedding anniversary poems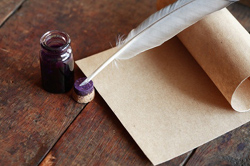 Wedding anniversary poems can be fittingly printed on greeting cards or recited to a dear couple who have reached a milestone anniversary year such as the 40th, 50th, or 60th. Newly written poems and classic poems alike can effectively communicate your heartfelt congratulations and well wishes to relatives, friends, or to your own spouse.
Many older persons have a great love for poetry, and thus your parents or grandparents are likely to appreciate the effort. Verse sets ideas into parallel lines which contain thoughts that complement, contrast, or complete one another. This device highlights and intensifies the entire text as compared with more ordinary talk. Images are common in poetry and add beauty and memorability to the poem. Rhyme can help for memorization and at times adds humor. Deep thought as well as deep emotion are often expressed in poetic form, making it an ideal means of communicating a thoughtful and caring anniversary wish to one dear to you.
Poems about certain anniversaries
Another year has gone by;
Some days were good,
Some left me wanting to cry
But through every day,
Both good and bad,
You were always there
To make me feel glad
I love you more than words can say
And wish to have you near
Every passing day
Happy Anniversary always, my dear
And wishes for another beautiful year

I always tried to do my best
To solve my problems without a rest
I didn't want to bother you
Even though I knew you'd always be true
You were patient as I learned
To rely on you,
And you in turn have relied on me
We've come to make the greatest team
As our love brightly beams
Happy Anniversary

Our love has grown since the day we met
But you haven't seen anything yet
A love so faithful and true
A life to spend together with you
Our home we have shared
And our souls have been bared
And you will stay in my heart
Till death do we part

Our love will last forever
We will always be together
Our love has been meant to stay
Ever since our wedding day
And every day since
And every year too
Every moment hence
Was for me and you
That's why I'll always be true
And I will always love you

Our love has always been true
I have always relied on you
In fair and bad weather
This love is forever
Through the winds of change
Our love will remain
Sick or well, young or old,
Rely on me to have and to hold

My love has been by my side
Our love has been tested and tried
And we do not waver, we do not hide
True love is our map and our guide
Love is loyal, love is blind
The heart can conquer the mind
In spite of it all, love we shall find
And we will never leave it behind

We've come through so much,
You and I
We've had times to love
And times to cry
But even when some people fell by the way,
We were determined that we would endure
To the next day
There could never be another
More loyal than you,
Nor another whom I would wish
To share this life through
Happy Anniversary, Darling

The little things you do
Have been so endearing the years through
Each kind act, each tender word
Has left me brimming with joy and gratitude unheard
I know with each passing day
I will try to be
As good to you
As you have been to me
Today I will start
With an Anniversary wish
Straight from my heart

In sickness or in health
Was a vow we made
On that glorious day
More valuable than the deepest jade
And you've been faithful to that promise
All these years
Holding my hand and drying my tears
And I, in turn, will stand by you
Through everything we experience
With a love that shines bright and true
Happy Anniversary, Dear

I always thought I was happy
Before I met you,
But then I learned that happiness
Paled in comparison to each day
We've shared true
Whenever I've been downcast and sad,
You've cheered my soul and made me so glad
Our lives, anew, are fulfilled
With each day of togetherness
That gives us a thrill
Happy Anniversary
And many more

In sickness I will look after you
In health I will celebrate that you are well
In bad weather I will shelter you
If you trust me with a secret, I never will tell
I will always take care of you
I've kept my promise since the day that I fell
In love with the likes of you
Since we heard the chime of our wedding bell
I have always been there for you
And you have cared for me just as well

You search a poem for a specific wedding anniversary? 25th anniversary 50th anniversary