Wedding anniversary wishes for parents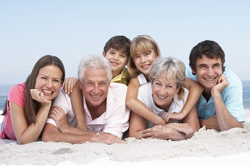 The wedding anniversary of parents is especially special because you, as the writer, are a product of their happy union.
Sometimes, parents can get hung up on what they might have done wrong but focus on the positive.
Reassure them that they are the best parents. Share specific examples of how their love might have inspired you in different ways. Wish them a lifetime of continued love and bliss. Remind them of how thankful you are to be born with them as your parents.
Anniversary messages to your parents
Dear Mom and Dad, Thank you for setting such a high bar for the satisfying joy that marriage can be. You two always made having a successful marriage seem effortless. We have learned so much from having you as marriage role models. Happy anniversary!

Mom and Dad, your marriage has taught me about how to be a good spouse. You were the first example of marriage I saw and the one that I follow most closely. Thank you for the gift of loving each other well. Happiest of anniversaries to you both.

All things considered, I guess I turned out alright after all
That's what happens when you have the most amazing parents in the world
Thanks for putting up with me, and all the problems that I caused over the years
Happy anniversary Mom and Dad!

Dear Mom and Dad, Happy anniversary! It has been a gift to grow up in the stability of your love for our family and for each other. Thank you for showing us how to experience the true potential of a married relationship. We love you!

I often think of you as mom and dad instead of husband and wife. Today, on your anniversary, I take time to reflect on the strength of your marriage and your love for one another. Thank you for the loving home you gave me because of your devoted marriage.

Now that I'm grown,
With kids of my own
I see what you did
For me as a kid
You helped me a lot
And you can bet
I never forgot
I'll never forget
Happy anniversary to the greatest parents on Earth!