30th Wedding Anniversary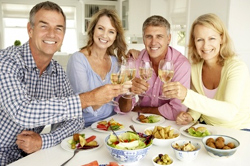 The Pearl Anniversary, or the thirtieth anniversary in terms of years, celebrates three decades that a couple has shared together. That s roughly a third of the average human life span.
At this point in a couple's marriage, chances are the children have moved away from home, and the couple might even be grandparents. The Pearl Anniversary celebrates the happiness and the memories created over three decades of love and affection, but it also celebrates the ups and downs the couple has endured with one another.
Suggested gift ideas reflect the traditional gift of a husband to wife: a pearl necklace. Friends and family can gift items that patch the necklace such as cufflinks, bracelets, etc. Pearls are the presented item because of their origin; pearls are formed when oysters take an irritant and turn it into something beautiful that belies the hardship that formed it.
30th wedding anniversary wishes
Two people have been joined together in a loving marriage for 30 years now. The comfort with each other has settled in, and the family has developed into something that is loving and bright. Here's to 30 more years of wedded bliss!

Thirty - and counting...
Never doubting, never relenting,
For my heart belongs to you,
my never-ending lover and friend.
First it was ten, then it was twenty!
Now it's thirty, but it feels like just yesterday.
With each moment my heartbeat grows stronger.
You have captured it, now and forever.

Happy 30th anniversary!
The two of you define the word marriage. You have sacrificed everything for one another, and you have been rewarded with love and happiness. I hope your next 30 years together are just as wonderful! Congratulations and I love you both!

30 Years have gone by
How the seasons have past
With you by my side
These great years have been a blast
As we grow older together our love will never leave
I'll be by your side to you I will cleave

30th wedding anniversary poems
Thirty years we've spent together
Sharing our ever-growing treasure.
Our pearl of love grows each year brighter
Weaving our lives ever closer and tighter.
The riches we share only increase each day
With our glowing love shining brightly to show us the way.

You are the pearl of my life these thirty years
You've brought me smiles and removed all tears.
The joys, the laughter, and the love we share
Show me how much you always care.