40th Wedding Anniversary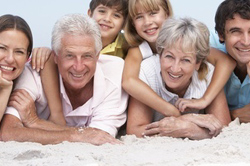 The Ruby Anniversary celebrates forty years of marriage. Very few couples last that long; in historical times, it was due to many people dying before they reached old age. In modern times, it's because of high divorce rates.
Because of the adversity that faces couples at this point, the anniversary is celebrated with a ruby, the blood red stone that represents two souls in one flesh, forged in the depths of the earth under heat and pressure.
The husband gives the wife the gift of a ruby on this special day, either in a necklace or a pendant. Friends and family can gift items that are similar in nature, such as red keepsake boxes. Champagne is also an acceptable gift for this anniversary.
40th wedding anniversary wishes
When a couple has been married for 40 years, they must be doing something right. It is with sincere warmth that I wish you a wonderful anniversary. I hope that your day is bright and cheerful as the two of you are.

40 years to celebrate
Starting on this special date
You and I, groom and bride
Together on this crazy ride
40 years of good and bad
I've seen you laugh, I've seen you sad
Thinking as I look at my ring
I wouldn't change a single thing

You are my best friend, my love
I cannot imagine living
these past 40 years of my life without you
Thank you for being my partner and my lover
You have made my life complete, I love you forever

Some say life begins at forty,
And truer words were never spoken.
As I reflect upon our time together
And all the pleasure we've shared
I can truly say that life has just begun.
Time nor eternity can erase the love we feel
And what we mean to each other.

40th wedding anniversary poems
As the ruby reflects our love,
Our life's commitment blessed from above,
So shines its beauty in your face,
Filling forty years of love with undiminished grace.
You're even more beautiful than when we first met
We'll finish life together as we watch the sunset.

A beautiful ruby is not enough to say
How much you light each passing day.
Your value is greater than any gemstone,
Our forty years together has made two just one.