50th wedding anniversary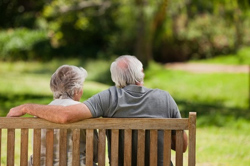 In a time when most marriages end in divorce within a few years, a couple's 50th wedding anniversary is cause for joy and celebration. It's a milestone that is often referred to as the Golden Anniversary, and the name comes from the tradition was of a husband giving his wife a golden garland, necklace, or wreath to commemorate their 50 years together.
That tradition still continues with spouses giving one another gifts like gold jewelry or gifts that have a gold theme like a trip to somewhere with gold in the name. These occasions are also commemorated by a celebration with family and friends, and they are often thrown by the children of the celebrating couple or close friends.
50 years of marriage is no easy task for any couple. They have had their ups and downs and found a way to work through their difficulties and remain together. For a couple to stay together for 50 years takes a great deal of commitment, and that kind of commitment and dedication is worthy of praise. Sometimes help is needed to find just the right words to express that praise, and our site is here to help you find those words.
50th anniversary messages
Modern poems