50th wedding annniversary poems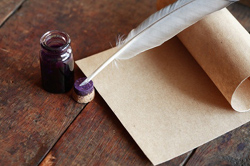 Poetry is often considered the songs of the heart. They reflect a wealth of feeling and emotion and can touch our souls. Poems are also a wonderful way to express the joy you feel for a couple on their 50th wedding anniversary. They add that special something that can be added to a greeting card for the couple or read at their special celebration.
Poems can be one of the most caring expressions of the heart and that perfect touch. Here you'll find a selection of poems designed to help commemorate and honor the couple's Golden Anniversary. The perfect poem for you to use is just waiting for you to find it.
I hold your hand in mine.
Same hands, but different skin;
layers have come and gone
since we have been together.
Layers of ourselves, one by one,
have given way to each other,
and I hold in my heart
the very center of you.

The park is full of teenagers;
daffodils sway in the green grass.
We tear the stale bread
with our fingers,
tossing the pieces
into the pond.
The ducks splash.
I smile when I remember that
we ordained this our bench
half a century ago.

We stand, hands clasped,
at the front of the church.
It seems so long ago
that we stood right here,
staring into each other's eyes
just like this.
As we renew our promises
to each other,
you look even better
than on that day.

You know my every flaw, and yet you've never left my side.
You have been here through it all; you have held me when I cried.
You carried me the distance, when I lacked the strength to stand.
You picked me up off of my feet, and took me gently by the hand.

What defines the heart, brimming over with life and hope?
What it was, where it has been, what it has seen and said and done?
No, but only for what it is the moments our eyes meet.
Only for what it is in the moments worth hold onto.

Words aren't worthy of her, no poetry or prose,
not a thousand frail comparisons to a star or a rose;
her beauty eclipses starlight, and though every rose will wither,
each new day finds her more beautiful than the day that I first met her.